Ahead of Schedule and Past the Half Way Mark!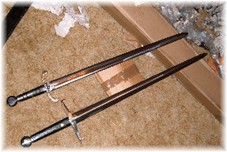 The SBG Overhaul is very much on schedule, thanks to the complete overhaul of a few major pages...
If you haven't noticed it - the major page on
Medieval Swords
(one of my favorite pages) has been given the SBG overhaul facelift treatment.
The original reviews have been moved to their own seperate pages, and this page is now set out in such a way that it can expand to include many more reviews easily (which is a good thing too, because there I have two more swords sitting here that need a thorough testing!)
So while I can't say that it is "complete" - it's been overhauled and is ready to expand with lots of new reviews and info.
There are a few sub-pages that need a bit of a makeover there still, and a call out to
Skyler Reed
: Skyler, I'm sorry, but I had to (temporarily) remove your review of the Cold Steel Broadsword - only because, strictly speaking, it's not a medieval sword but more of a military sword, and I'll be creating a special page for military swords once the overhaul is completed.
Anyway, once the sub pages have been "given the Overhaul treatment", my next target is to do some serious work on Japanese swords - including new reviews of two new Katana from Cheness Cutlery (including the much anticipated 9260 Spring Steel Sword!)
CHANGES TO THE SBG DISCOUNTS
Change 1: I have decided that there isn't much point worrying too much about the 12% SBG Discount that I have been promoting at Swords of Honor, mostly because if you look on their
Homepage
you'll see that they have a recurring monthly promotion featuring a 10% discount, and I don't know about you, but the 2% difference doesn't really seem worth it...
Change 2: Due to various circumstances, the SBG15 Discount with Arms of Valor is about to be reduced from 15% to 10%...
I'll be explaining more about this shortly in a mail out to all the subscribers to my newsletter,
The Sword Buyers Digest
(even though I didn't plan on sending a mail out this month, but so much has been happening it would be wrong of me not to keep my loyal subscribers in the loop).
But for now, it looks like the 15% discount will be downgraded to 10% sometime in the middle of next month.
At this stage, I can't be 100% on the date, but the doors won't be open on this special offer for much longer...
Even at 10% you're still getting the best prices on the 'net for Windlass Steelcrafts and Generation 2 swords. But the prices at the 15% discount are totally unheard of.
So basically, take advantage of it while it's still there!
Paul