New Vids, Newsletter feedback and more...
Hey Guys!
Well, first off I'd like to thank everyone for the kind feedback on my new look
Online Magazine
- very encouraging and makes me look forward to putting together another big one for next month! :-)
So thanks for your emails guys!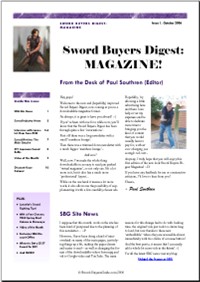 After the magazine was sent, I've been busy editing and putting together a few videos from some older clips with Generation 2 and Cheness Cutlery to put on youtube. Definitely was a lot of fun, and I quite enjoy the creativity - will no doubt be many more in the works, especially as I am putting together some orders to try some more swords out and see how they go.
Anyway, here's the vids, with the first one being a complilation of Cheness Test Cuts put to music. I quite like the weird sound my kiai ends up becoming on the final cut, spooky! hehe.
I also put together a few more specific clips for the Kaze Katana. The first one is the Kaze cutting a piece of unsupported paper. Another very weird sound on this one, must have been a perfect Zen cut I reckon! :-P
Another one of the Kaze, this time some typically overzealous, overcommited cuts which were really unecessarily forceful...
And finally, a Gen2 compilation of their medieval swords being abused in some destructive durability tests...
All in all, good clean fun - and like I said, lots more of them in the works so stay tuned.
[official voice] in other sword buyers guide news: hehe, well, I am currently putting together some mini reviews and customer feedback for my
SBG Sword Store
- so don't mind if the front page looks a little half-nekid, please just politely avert your eyes while it is changing! :-P
(Should be finished within the next 24 hours though).
Ok, that's all for now - catch up with you all soon!
Paul